Welcome Reception
30 August 19.00-21.00
The ISSSTA'04 welcome reception will be held in the world-renowned Museum of Contemporary Art. ISSSTA'04 delegates are invited to the reception at 19.00. The Museum of Contemporary Art is a short (15 min) walk from Sofitel Wentworth Sydney – the symposium venue – or a 5-minute taxi drive. Please be sure to bring your name badges. You can enter the MCA via the waterfront concourse.
Museum of Contemporary Art Address: 140 George St, The Rocks Access map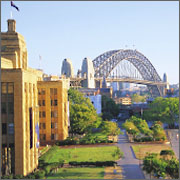 Banquet
1 September 19.00-23.00
At the banquet in the Summit Restaurant, the delegates of ISSSTA´04 have a unique opportunity to enjoy some of the most spectacular views over Sydney and some of the finest food available. The banquet venue is located high above the city. The banquet begins at 19.00. The Summit Restaurant is a short walk (10 min) from Sofitel Wentworth Sydney. During dinner, entertainment will be provided by the delightful sounds of the Northern Strings - a famous Australian trio.
Summit Restaurant Address: Level 47, Australia Sq, 264 George St Tel: (0)2 9247 9777 Access map